Information
Edit
Calihound is a Normal, Fighting type monster in MonsterMMORPG. The rarity class it is ranked under is Emissary. Meaning they are fairly common, this can be seen as there is a total of over 5000 in the game.  It's catch rate is currently 71, and it's level gain rate is marked as Normal. The base EXP award upon defeating Calihound is normally 555.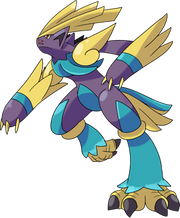 Calihound's average level is 12.
It's catch rate is 71
The level gain rate for Calihound is Normal.
The Reward TP from defeating Calihound is around 3.
Ad blocker interference detected!
Wikia is a free-to-use site that makes money from advertising. We have a modified experience for viewers using ad blockers

Wikia is not accessible if you've made further modifications. Remove the custom ad blocker rule(s) and the page will load as expected.